May 2017 Concert – Independence Forever!
Presented by the 2017 Chestertown Tea Party Festival, this 25-minute program featuring the Chester Chamber Singers included music honoring our national heritage. This performance was free and open to the public. Three members of the Chester Chamber Singers were featured as soloists: Helen Clark, Bonnie Keating, and Nevin Dawson.
Saturday, May 27, 2017, 11:45am
Garfield Center for the Arts
April 2017 Concert – "Hooray for Hollywood!"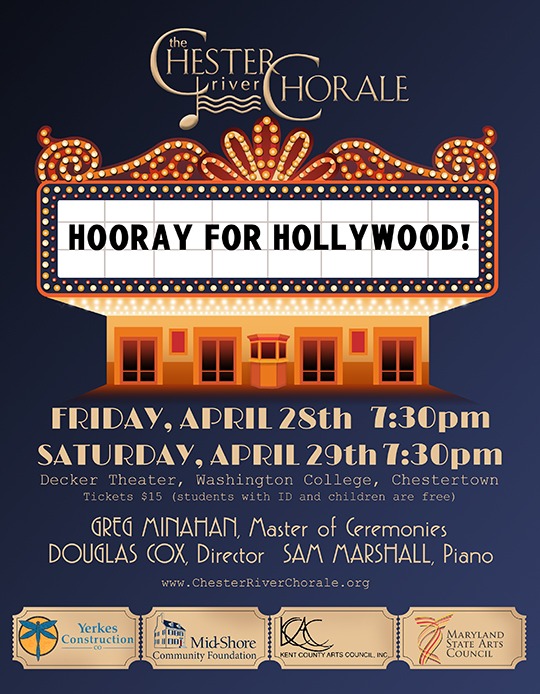 Sponsored by the Washington College Department of Music, this program explored the wide spectrum of music that has been brought to the mass audience through the medium of film. Repertoire included a few familiar classical excerpts as well as many unforgettable songs by popular artists. Greg Minahan of Shore Shakespeare joined us as Master of Ceremonies, dancer, and vocal soloist.
The Chester River Chorale has been singing up a storm for almost two decades, but can they dance too? We found out at our "Hooray for Hollywood!" performances!
Some members of the 95-voice Chorale have been took dance lessons from Greg Minahan, who has brought his Broadway chops to lead the singers through their paces in dance moves choreographed by the Chorale's own dance professional, alto Karen Lynn Smith.
Minahan served as the song and dance master of ceremonies, soloing with an umbrella in "Singin' in the Rain" and leading the Chorale's Hollywood Troupe in ballroom turns for "Cheek to Cheek" and some Snoopy-inspired boogying in "Better When I'm Dancin'." He also sang as a soloist in "The Prayer," with duet partner (and CRC soprano) Caitlin Patton.
A bonus was an interlude of movie themes by Maryland guitarist Tom Lagana.
The musical program, put together by Artistic Director Douglas Cox and accompanied by the Chorale's Sam Marshall, raised the curtain with Richard Roger's "It's a Grand Night for Singing" (from 1945's State Fair) and concluded with the stirring rhythms of Carly Simon's "Let the River Run" (from 1989's Working Girl).
The Chester River Chorale is grateful to the Washington College Department of Music for sponsoring this concert.
Friday, April 28, 2017 at 7:30 p.m.
Saturday, April 29, 2017 at 7:30 p.m.
Decker Theatre (Gibson Center for the Arts, Washington College)
February 2017 Fundraiser – Sammy Sent Me
Our Speakeasy-themed fundraiser was a huge success! Thank you to everyone who attended and supported the event. 
Saturday, February 18, 2017 at 7:00 PM
Bad Alfred's Distilling, 323 High Street in Chestertown
Schedule for the Evening:

7:00 PM - A Little Hooch and Silent Auction
7:30 PM - Tasting, Hors D'Oeuvres, Distillery Tours
9:00 PM - Performance by the Chester River Chorale Jazz Ensemble

Vintage attire admired but not required!
December 2016 Concert – A Chester River Holiday
As December began, the Chester River Chorale heralded Christmas and Chanukah with its 18th annual presentation of A Chester River Holiday. The treble voices of the Chester River Youth Choir again joined in for the celebration in the beautiful sanctuary of the Presbyterian Church of Chestertown for two performances. From dancing through a Baroque Magnificat in Latin to racing through Leroy Anderson's Sleigh Ride, the 90-voice Chorale's program hit all the high notes —religious and secular —of the holiday.
Concert Information
Friday, December 2nd at 7:30 p.m.
Saturday, December 3rd at 1:00 p.m.
Presbyterian Church of Chestertown
April 2016 Concert – Shakespeare's Songbook
This unique program, sponsored by the Washington College Department of Music and Washington College Concert Series, commemorated the life of the Bard on the 400th anniversary of his death, in April 1616. Presented by the Chester River Chorale with guest artists Shore Shakespeare Company of Easton, MD, this concert brought together contemporary musical settings of Shakespeare's songs and prose with well-known scenes from his plays. Highlights of the varied program include selections from "West Side Story" and the world premiere of a new work, commissioned by the Chester River Chorale, by Baltimore composer Michael Rickelton. The Chester River Youth Choir also performed.
December 2015 Concert – A Chester River Holiday
In December 2015 we continued our tradition of offering a varied and entertaining concert of sacred and secular music in celebration of Christmas and Hanukkah. We were be joined again by Spencer Adamson, baritone; the Chester River Youth Choir, Julie Lawrence, Director; and a small chamber orchestra. We rang in the holidays with great music at the Chestertown Presbyterian Church!