The Chester River Chorale
Our mission is to provide opportunity, education, and inspiration for amateur singers to strive for artistic excellence. We entertain diverse audiences and enrich the cultural life of the community.
The Chester River Chorale is a vibrant all-volunteer, 90-voice community chorus in its 19th season of performing a wide variety of choral music in the Kent County community. Under the leadership of inspiring choral director and experienced professional singer Douglas D. Cox, the Chorale presents several concerts each holiday season and spring.
As a non-auditioned community choir, our members range from those with graduate-level music degrees and professional music experience to singers who do not read music. Members range in age from teenagers to octogenarians and come together through a love of singing, learning new music, and expanding their musical skills. If you love to sing, join us!
The Chorale's repertoire features classical masterworks and other sacred and contemporary music, including Broadway show tunes, spirituals, folk, pop and contemporary classical. The annual concert schedule includes A Chester River Holiday, a spring concert, and Independence Forever! to kick off the annual Chestertown Tea Party Festival. The Chorale has also performed with the National Music Festival Symphony Orchestra for five seasons.
The Chorale is a nonprofit 501(c)(3) organization.
Upcoming Performance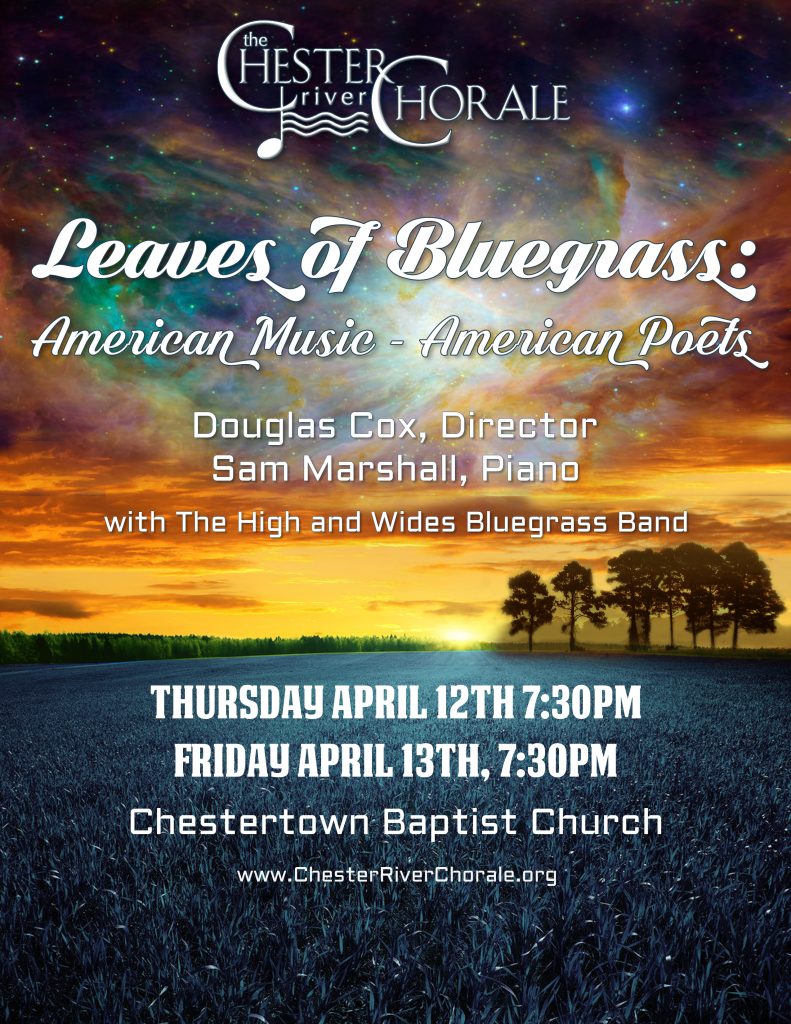 Leaves of Bluegrass: American Music ~ American Poets is about big thoughts: expansive, exuberant, optimistic thoughts that often characterize American music and literature. It began with my interest in the work of Walt Whitman, in particular his evocative poem, Darest Thou Now, O Soul, and others from Leaves of Grass, the extraordinary collection that occupied Whitman for much of his life. In these poems Whitman trumpets the equality and interconnectivity of all that exists in the universe. He places himself (and the reader, vicariously) squarely in the center, with a sense of awe and wonderment, energized more by the unknown than the known.
This program took its final form last August, while America and the entire world bore witness to the appalling demonstrations and subsequent race riot in Charlottesville, Virginia. That powerful spectacle revealed a lingering cancer in the ties that bind our nation, and led me to broaden my thinking about what should be presented in our performance of American music and poetry.
As this "big-thoughts" theme developed, I discovered Mortals and Angels: A Bluegrass Te Deum, an innovative new work by composer Carol Barnett and librettist Marisha Chamberlain. It is a one-of-a-kind setting of the Latin Te Deum ("to God"), a hymn of praise from the Roman Catholic liturgy, but with provocative twists, such as the insertion of Protestant hymns, a bluegrass band accompaniment, and a literary theme that imagines a friendly competition between mortals and angels in their praise of God: whose is more worthy and authentic?
I hope you find the program thought provoking and our music making beautiful. Thank you for joining The Chester River Chorale on this musical journey.
In gratitude,
Douglas D. Cox, Artistic Director
Event Information
Thursday, April 12, 2018 at 7:30pm
Friday, April 13, 2018 at 7:30pm
Chestertown Baptist Church, 401 Morgnec Rd. Chestertown
Ticket Information
Tickets are $15. They can be purchased at the door (cash or check only, please). Children under 12 and students with ID are free.
The Chester River Chorale is a 501(c)(3) nonprofit organization funded in part by an operating grant from the Maryland State Arts Council, an agency dedicated to cultivating a vibrant cultural community where the arts thrive. Support is also provided by our Presenting Sponsor, Yerkes Construction, and by the Kent County Arts Council, the Hedgelawn Foundation, the Artistic Insights Fund of the Mid-Shore Community Foundation,  and our generous patrons, merchant advertisers and audiences.